Dental Implants.
Dental implants are the perfect solution to replacing missing teeth without the need for dentures or bridges.
The technology has been widely used for the last 30 years but only recently have dentists been able to offer this service in normal surgery as a matter of routine treatment.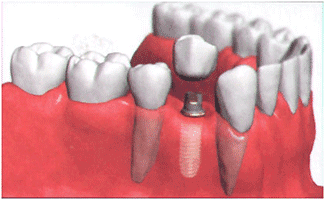 The implant procedure involves placing an internal screw thread or post space that allows a variety of components to be fitted. Once fitted and integrated into the bone they provide permanent support for crowns, bridges or dentures.
Almost all dental implants currently used today are made from titanium or titanium alloy. These are materials that have been shown over many years to be well accepted by bone.
A dental implant is essentially a substitute for a natural root and commonly it is screw or cylinder-shaped. Each implant is placed into a socket carefully drilled at the precise location of the intended tooth. The main aim during the installation of any implant is to achieve immediate close contact with the surrounding bone. Within a few months as with any implanted support, the bone grows and secures the implanted screw.
At Granville House, we can offer individual implants or complete upper and lower implants to replace bridges and dentures.
On many occasions an implant will be inserted on the extraction of a tooth, thus minimising the time you are without a tooth, but it is equally successful to insert implants even when you have had dentures for years.
If you are missing just one natural tooth, then one implant is normally all that will be needed to provide a replacement. Larger spaces created by two, three or more missing teeth do not necessarily need an individual implant per tooth; however, the exact number of implants will depend upon the quality and volume of bone at each potential implant site.
Occasionally, it is even possible to join natural teeth to implants with a conventional bridge.
FAQ on Implants
Q: How many implants will I need to replace a full denture?
A: Because bone density is generally poorer in the upper jaw than in the lower you will need a minimum of 6 implants to support a complete arch of 10 or more replacement teeth.
In the lower jaw, the bone towards the front of the mouth is often very strong and as a direct result, fewer implants may be needed than are required to treat a whole upper jaw. A simple treatment plan to provide 10 or more teeth in the lower jaw might be possible with as few as 4 implants.
Q: Can I have this done under sedation.
A: Yes of course this will be discussed when we set your treatment plan. However many patients find it no more distressing than having a root canal treatment so it may be that you will choose to have it without.
Q: How long does it take to do the implants?
A: This varies from 30 mins for one to several hours for six. It is impossible to know exactly until the jaw is opened up. It may be that the dentist will have to insert some living bone to help augment the existing bone, especially if your teeth have been missing for some years so could take a little longer than expected.
Q: What kind of complications could there be, that I should be aware of?
A: As before it may be that the dentist sees that there is not enough bone to support the implant and you will need bone added, but this will be seen when you have the full X-ray prior to treatment, so the dentist will have the bone ready to insert along with the implant. In some cases, it may be necessary to do a sinus lift if your sinus are low as the dentist needs enough space to place the implant without causing problems to the normal performance of your sinuses. This will also be discussed by the dentist when he has seen the X-ray and will result in a gap between sinus lift and implant insertion of a few months.
Q: What measures do I have to take myself to ensure that my implants will work?
A: The implants will only work if the bone grows to secure the implant. Smoking increases the risks of infection to the bone so therefore you should stop smoking three months prior to surgery. Good oral hygiene is essential and we can give you all the advice needed to give your implants the best possible chance.
Q: What happens when the implant has been placed in my jaw?
A: A cap is fitted over the end of the implant whilst it is integrating with the bone so that access to the shaft of the implant is kept clear, ready for the post to be inserted in a few months. Depending on how many implants you have, you will either be fitted with a temporary crown, bridge or denture whilst the bone is bonding.
Q: How long before my permanent crowns are fitted?
A: This varies from patient to patient but generally we like to fit the new crowns within six months.
Q: Will I be able to eat properly while I am waiting for the crowns to be fitted?
A: For the first two weeks it is advisable to eat soft food, thereafter other foods can be introduced back into your diet. We will advise you of what foods we would prefer you not to eat. But for the most part, you should not notice too much of a problem.
Q: Will it be very painful?
A: You will experience the discomfort level of extraction for the first few days. Thereafter, following the recommended oral hygiene as set out by us, the discomfort will diminish over the next week or so. Pain is normally managed with general non-prescription painkillers.
Q: Once the implants have been integrated what happens next?
A: When we are happy that there is significant bone without gaps around the implant we will insert the posts into the implant shaft. Moulds will be taken with the posts in place so that our technician can make the best possible fit for your permanent teeth. You will then be fitted with a temporary crown or bridge for a short while whilst the teeth are being made.
Your new crowns will then be fitted with temporary glue for a short time to ensure that the fit is comfortable. Once the dentist is happy he will fix the crowns permanently.